Sunnybrook Dental - Olathe, KS Dentist Blog
Posts for tag: oral hygiene
By Sunnybrook Dental
July 10, 2020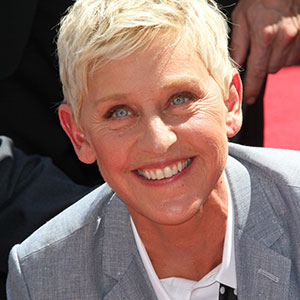 This year's Carol Burnett Award, presented at the Golden Globes, goes to Ellen DeGeneres for her "outstanding contributions to the television medium on or off the screen." This is the latest in a long list of honors for the comedienne, talk show host and activist that includes Emmys, Grammys and Teen Choice Awards. And one not quite as well-known: a 2004 "Flossy" award.
DeGeneres received this honor from the National Flossing Council in recognition of her passionate promotion of oral hygiene, particularly flossing. She wrote about its virtues in her 2003 book, The Funny Thing Is…., saying, among other things, "Don't even think for a second that you can get away with not flossing."
DeGeneres's motivational cheerleading for flossing is helpful and necessary because, well, many of us just don't like doing it. It requires more manual dexterity than its more popular sibling, brushing. And the tendency for the floss to gunk up with plaque residue for some is simply unpleasant.
Mainly, though, many folks think brushing is enough. Not so fast, according to dental professionals. While brushing removes disease-causing bacterial plaque from broad tooth surfaces, it can't effectively get into the spaces between teeth. It takes flossing to clear plaque from these more difficult areas.
But don't fret: There are ways to make flossing an easier—and more pleasant—task.
Ask us for help. As we said before, flossing does take some hand dexterity and coordination to perform. You may also wonder if you're doing it effectively. We can provide training and tips on how to be a more effective flosser at your next visit.
Practice, practice, practice. You probably think nothing of riding a bicycle, and yet it probably took you weeks or months as a kid to become proficient. Similarly, your first attempts at flossing might feel awkward, but you'll improve with practice, so don't give up.
Brush before you floss. Most people floss before brushing, but if you tend to encounter a lot of soft plaque debris that makes flossing "icky" for you, then try brushing first to clear a good portion of it out of the way before you floss. Just be aware, most professionals believe that flossing first is better because it loosens up debris between teeth so the bubbles from the toothpaste can carry it away. But any flossing is better than no flossing!
Try flossing tools. For some people, floss picks, small pre-threaded tools you can use with one hand, seem easier to maneuver than regular floss thread. If you have issues with manual dexterity, an oral irrigator can make the task easier: This handheld device uses a stream of pressurized water to loosen and flush away plaque between teeth.
So, follow Ellen DeGeneres's advice she gave Tulane University graduates during a commencement speech: "Remember to exfoliate, moisturize, exercise…and floss." The latter, along with brushing, will certainly help keep your teeth and gums healthy.
If you would like more information about best oral hygiene practices, please contact us or schedule an appointment. To learn more, read the Dear Doctor magazine article "Daily Oral Hygiene."
By Sunnybrook Dental
June 10, 2020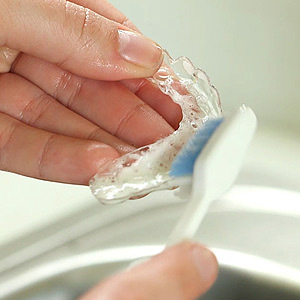 Millions of people wear some form of removable oral appliance. The range is pretty extensive, from orthodontic clear aligners and retainers to full or partial dentures. But while they may vary in purpose, they all require the same thing: regular cleaning and maintenance.
And there's a right way to care for them, and a wrong way. The right way ensures you'll get the most out of your appliance—the wrong way might drastically curtail their longevity. Here, then, are 4 things you should and shouldn't do to keep your appliance in tip top condition.
Clean it properly. Only use cleaning agents appropriate for an oral appliance's materials. That means avoiding the use of toothpaste—the abrasives in it won't harm tooth enamel, but they can scratch some appliance materials. Instead, use dish detergent, hand soap or a recommended cleaner with a little warm water. Also, use a different brush than your regular toothbrush.
Avoid hot water and bleach. Hot or boiling water and bleach kill bacteria, but they will also damage your appliance. Hot water can warp an appliance's soft plastic and alter its fit. Bleach can blanch plastic meant to mimic gum tissue, making them less attractive; even worse, it can break down appliance materials and make them less durable.
Protect your appliance. When you take out your appliance, be sure to store it high out of reach of curious pets or young children. And while cleaning dentures in particular, place a small towel in the sink—if they slip accidentally from your hand, there's less chance of damage if they fall on a soft towel rather than a hard sink basin.
Don't wear dentures 24/7. Dentures can accumulate bacterial plaque just like your teeth. This can increase your risk of an oral infection, as well as create unpleasant mouth odors. To minimize this, take your dentures out at night while you sleep. And be sure you're cleaning them daily by hand, soaking them in an appropriate solution or with an ultrasonic cleaner.
Your oral appliance helps keep your dental health and function going. Help your appliance continue to do that for the long haul by taking proper care of it.
If you would like more information on how best to maintain your oral appliance, please contact us or schedule an appointment for a consultation. You can also learn more about this topic by reading the Dear Doctor magazine article "10 Tips for Cleaning Your Oral Appliance."
By Sunnybrook Dental
March 22, 2020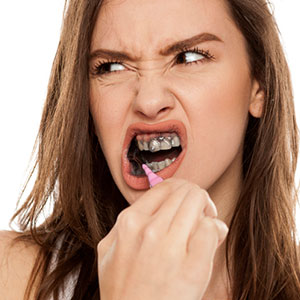 The Internet is truly amazing: It takes only a few seconds to tap into a vast store of knowledge to find information that once took people hours or days. But amidst all that helpful data, there's also some not so helpful information—in fact, some can be downright harmful, including to your dental health.
One particular Internet trend is brushing teeth with black, gooey substances containing activated charcoal. Scores of online videos featuring people doing this are getting viral views, perhaps more for the "gross" factor than the claimed health benefits.
So, why do it? Advocates of using activated charcoal for oral hygiene claim the ingredient kills harmful microorganisms in your mouth. The charcoal is also supposed to whiten your teeth.
But clinical studies of the practice, including one recently published in the Journal of the American Dental Association have been unable to substantiate these claims. There's simply no evidence that activated charcoal does what its advocates say it can do.
Unfortunately, there is evidence the practice can actually harm your teeth. This is because activated charcoal is an abrasive substance that over time could damage your teeth's enamel. Eroded enamel doesn't regrow, so eventually the more vulnerable dentin, the tooth layer just beneath the protective enamel, becomes exposed. It's not only darker and less attractive than enamel, its more susceptible to tooth decay and cavities.
The best way to care for your teeth, brushing and flossing daily, may seem boring compared to videos of brushing with charcoal, but it is effective—and safe. You should also see your dentist for more thorough cleanings at least every six months to round out your dental care.
And if you want a brighter smile, your dentist can perform a tooth whitening procedure that can give you months or even years of satisfaction. Professional tooth whitening (or even home whitening kits applied properly) also won't harm your enamel.
If you would like more information on the best ways to clean and care for your teeth and gums, please contact us or schedule an appointment for a consultation.